Achieving your best smile often requires a combination of preventative dentistry, restorative processes and cosmetic treatments. In the course of your treatments, your dentist may recommend dental inlays or onlays to help you deal with damage from past injuries or decay. If one or the other of these treatments has been recommended to you, you will want to know how it can help you and how the treatment is performed.
Dr. Tuan Pham's goal is to help you fully understand dental treatments so that you can take better control of your own oral health and make decisions that best match your health goals. Find out more about inlays and onlays here, and be sure to ask Dr. Pham any further questions that you may have at your appointment.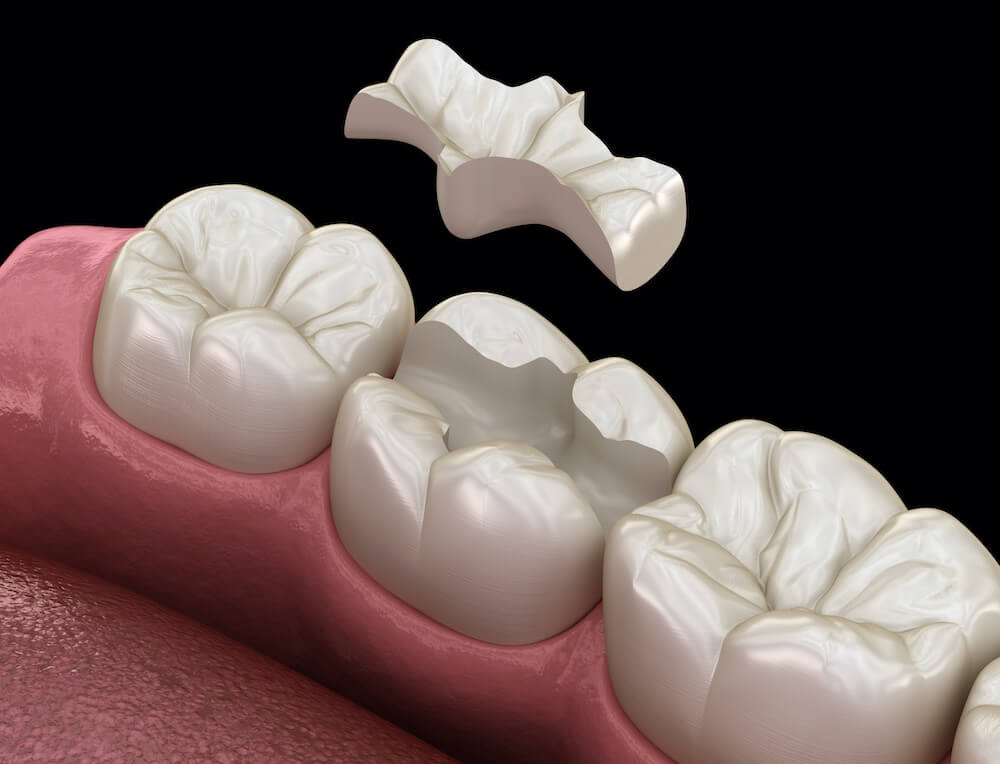 What Are Inlays?
An inlay is an indirect dental restoration consisting of a solid substance (such as composite resin, gold or porcelain) fitted to a cavity in a tooth and bonded into place. Traditionally, inlays were made of gold, which was strong and durable. However, gold was highly visible and to some, not very esthetic. For this reason, ceramic or porcelain are most frequently used today. Ceramic inlays are strong, and can match your natural tooth color exactly. Another option is composite resin, which can also be expertly color-matched. While resin is more affordable than gold or porcelain, it does not resist stains as well and is weaker. Whichever option you choose, you should know that an inlay is more durable than a traditional filling.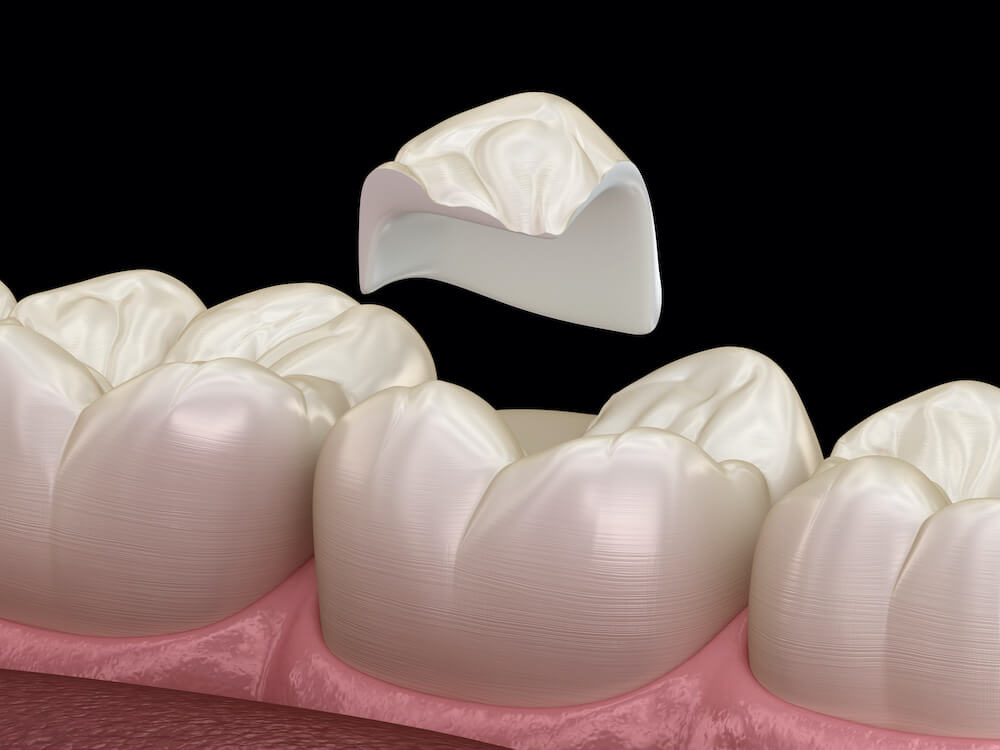 What Are Onlays?
Dental onlays are the same as dental inlays, except that they cover one or more cusps or the entire chewing surfaces of damaged teeth.  Due to the extensive coverage, onlays are sometimes referred to as "partial crowns".  Dental onlays can be made from porcelain, composite resin, or gold.  Since the materials and the process of bonding is the same as you find with inlays, the longevity of the onlay is equally as impressive.
Who Needs Inlays or Onlays?
As mentioned, inlays and onlays are frequently used for restoration of a tooth that was either broken or that had a large area of decay removed. If the tooth damage is not severe enough for a crown, your dentist can treat it with an inlay or onlay. They may also be used for individuals whose fillings have fallen out and who need new fillings to restore larger areas. In addition, inlays or onlays are preferred to traditional fillings when the chewing surface of the tooth has been damaged.
What Is the Process for Inlay & Onlay Restoration?
Before your restoration, Dr. Pham will ensure that any areas of decay are removed. He will then take an impression of the tooth so that the inlay or onlay can be expertly crafted in a laboratory. While the inlay or onlay is being made, you will be fitted with a temporary filling to seal off your tooth and reduce discomfort.
When the inlay or onlay is ready to be placed, you will receive local anesthesia to keep you comfortable. The temporary filling is removed, and the new filling is cemented into place. Within a day or two, your tooth should feel as good as new.
Benefits of Inlay & Onlay Restoration
Inlays and onlays help to restore weak, damaged or unsightly teeth. They have many benefits, including improved strength for highly decayed teeth and great durability. As long as you care for your inlays or onlays well, they can last for many years, strengthening your teeth and helping you maintain their natural beauty. Thanks to newer options, inlays and onlays can blend in beautifully so that they cannot even be seen at first glance.
Keep in mind that this restorative process can help you maintain the overall health of your teeth and can even increase the lifespan of your natural teeth. While there are certainly great options for whole tooth restoration, such as dental implants, it is always best and easiest to keep your own teeth. Longterm treatment with inlays and onlays can help you do just that, while also increasing your self-image and confidence in your smile.
Choosing Dr. Tuan Pham for Inlay & Onlay Restoration
If you have broken or decayed teeth, you want to rest assured that the dental treatment you choose is the best option for restoring your gorgeous smile. When you choose to work with Dr. Tuan Pham in Redlands, California, you can know that your smile is as important to him as it is to you. Whether you need a simple filling or a more in-depth inlay or onlay, Dr. Pham will make sure that all of your questions are answered along the way.
We encourage you to contact our office today to learn more about inlays and onlays or to find out about other restorative dental treatments we offer.